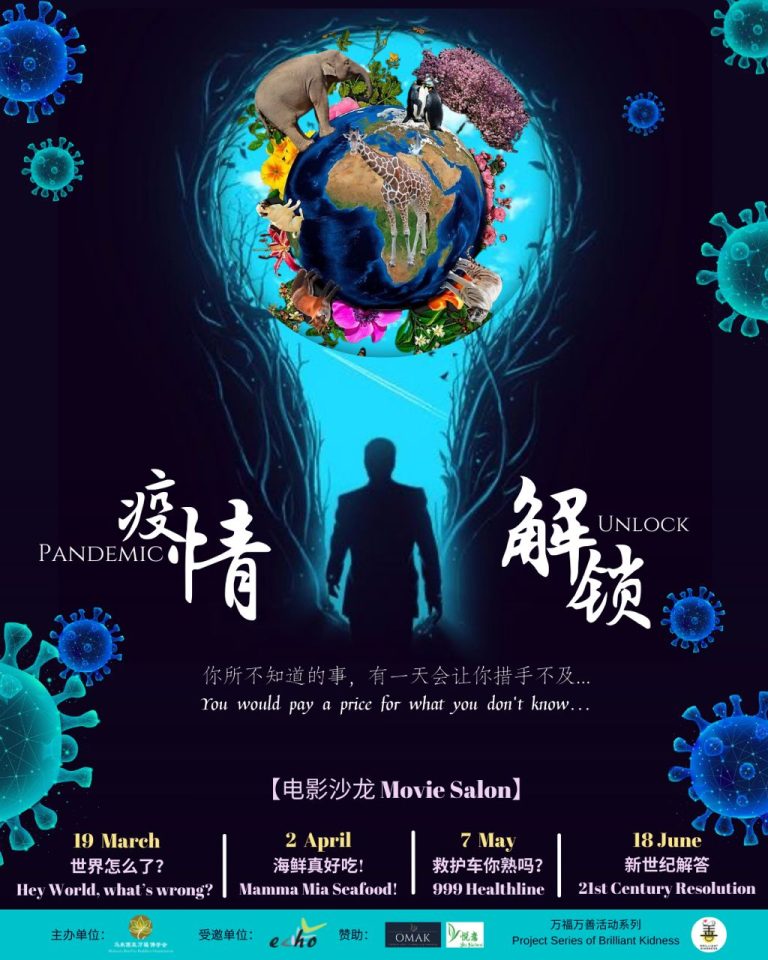 疫情 · 解锁 Pandemic · Unlock
一个病毒,在两年期间,让全球超过4.3亿人口染病,590万人死亡。 
这一连串的涟漪,从一个个人决定开始。 
或许,我们不曾认为自己吃一餐饭会怎样影响其他人。 
但我们不是单一的个体,我们的衣食住行都依赖群体社会的付出,而我们每一个决定,也都在为这个世界的明天投票。所谓"牵一发而动全身",就是此次新冠疫情的最佳写照。 
我们到底还有多少本钱可以花费?还有多少时间可以挽回? 
与其担忧新常态还要持续多久,下一个灾难会轮到谁家,不如打开心扉,来探讨真正解决问题的关键和方案。 
[疫情·解锁],诚挚邀请您来认识这个世界的真相,来探讨您手上的一票,到底值多少钱? 
电影沙龙 
时间:周六 2pm-4pm 
电影媒介语:英语,配华语字幕 
讨论语言:华语,配英语翻译 
主题: 
3月19日:世界怎么了?   
4月2日:海鲜真好吃!  
5月7日: 救护车你熟吗?  
6月18日:新世纪解答  
立即报名!
查询:03-7802 8401 
A coronavirus infected over 430 million of world population and brought death to 5.9 million people in two years' time.  
This ripple of devastation originated from one personal decision. 
We probably never thought that taking a meal could affect others. Yet, we are not single individuals. All our daily necessities rely on the contribution of the collective society, and every decision we make is casting a vote to the future of the world. Butterfly effect could best depict this pandemic. 
How much more could we lose? How much time could we retrieve? Instead of worrying how long this new norm would last, or who would be the next victim, we could open our heart and explore the key solution to the real problem.  
You're cordially invited to join us in uncovering the truth of this world, and find out how much does your vote worth? 
Movie Salon 
Time:Saturday 2pm-4pm 
Movie Language:English with Chinese subtitles
Discussion Language: Chinese with English translation 
Theme: 
March 19:Hey World, what's wrong? 
April 2: Mamma Mia Seafood! 
May 7: 999 Healthline 
June 18:21st Century Resolution 
Register now!
Enquiries: 03-7802 8401 
报名[电影沙龙] [Movie Salon]Registration Form
欢迎加入[万福万善]FB group 和 IG,以得知最新活动消息!
Feel free to join the [Brilliant Kindness] Facebook Group & IG to get updated with the latest information!